News
National Youth Orchestra's Hope Exchange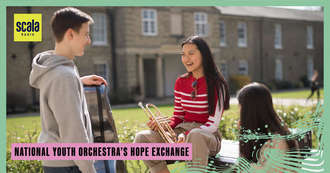 National Youth Orchestra presents a nationwide series of concerts, workshops, digital events and school residencies that explore the music of hope and aim to share musical optimism.
The teenagers will go into their local schools to inspire and give purpose to other young musicians, using music as a vehicle to empower young people and create extensive musical communities.
NYO's Hope Exchange culminates in four eclectic, thought-provoking programmes of music throughout July and August at Saffron Hall, Southbank Centre, Leeds Town Hall, Birmingham Symphony Hall, and a BBC Proms performance at the Royal Albert Hall.
The concerts feature world-class soloists including saxophonist Jess Gillam, French horn player Annemarie Federle (BBC Young Musician), and violinists Francesca Dego and Nicola Benedetti, in repertoire chosen to illuminate the theme of hope.
This summer, the National Youth Orchestra of Great Britain will explore the music of hope and the power of optimism in a wide-ranging programme of events both in the classroom and the concert hall. NYO's Hope Exchange will explore the creativity young people are capable of through the give-and-take of hope, which guides every detail of this summer of relationship-building and performance-sharing. Through NYO's Hope Exchange, the trailblazing organisation leads the journey towards cultural recovery.
Working in smaller, more flexible ensembles to allow for social distancing, every musician in the orchestra will return to the concert platform. Five concerts are planned, with free tickets for 19s and under, and each programme explores ways in which music embodies hope for a better world. Young composer Laura Jurd has written a new piece inspired by hope entitled CHANT, and throughout the tour Jessie Montgomery will be the digital artist-in-residence.
NYO's Hope Exchange has commenced in hundreds of schools across the country: the community of young musicians are taking musical optimism nationwide, into their local primary and secondary schools, giving concerts and exchanging musical hope with young audiences. A series of webinars hosted by the teenage musicians with international youth organisations will shed light on extraordinary environments in which music-making is an act of hope for young people around the world.
NYO musician Izzy said: "I'm really excited to be back making music again to audiences. Live music feels like a real act of hope this year."
Sarah Alexander, Chief Executive and Artistic Director of NYO said: "The National Youth Orchestra of Great Britain is committed to enabling young people to find their voice in and through orchestral music. During creative planning for summer 2021 the teenagers of the orchestra were encouraged to share their views on the world they live in, and the role that they want their music-making to have in that world. There was a powerful sense that NYO's theme for 2021 had to be 'hope'. Hope sustains us through our difficulties and helps us to keep going through uncertainty. While hope has enabled many young musicians to keep on practising through lockdown, it has been the joy and intimacy of listening to and creating music that has sustained that hope."
Source: msn.com
Added automatically
709 views