News
Chrissy Teigen doesn't offer John Legend input on new music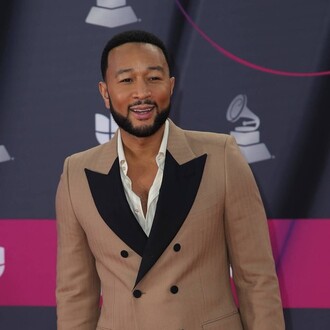 John Legend has admitted his wife Chrissy Teigen doesn't offer her input on his new music.
During a recent interview for The Wall Street Journal, the musician revealed that Chrissy isn't interested in listening to songs he's working on until they are complete.
"She likes to hear it after it's done. She learned when she started dating me that the demos change a lot, and she didn't like them changing because she would fall in love," he explained. "We call it 'demo-itis' in the business. She's like, 'Play it for me when it's done.'"
John went on to note that he has a very specific process when it comes to creating a hit, often starting with a melody and "mumbling" the sound until he is "led to lyrics".
Elsewhere in the chat, the singer-songwriter reflected on the ongoing success of All of Me, which has become a popular song for weddings.
John actually wrote the track for his own nuptials to Chrissy back in 2013 but remains very happy to share the sentiment with other happy couples.
"I've written hundreds and hundreds of songs now, and you never know what path each song is going to take. When I finished writing All of Me, I was happy with it. I wrote it before Chrissy and I got married, we were engaged, and the first time I sang it live was at our wedding," the 44-year-old continued. "It was about us, about our relationship, about her, and inspired by my own life, but seeing it applied to everyone else's life has been really beautiful and rewarding for me."
Photo: Cover Media
Source: Cover Media
Added automatically
75 views