News
Pharrell Williams built recording studio at Louis Vuitton headquarters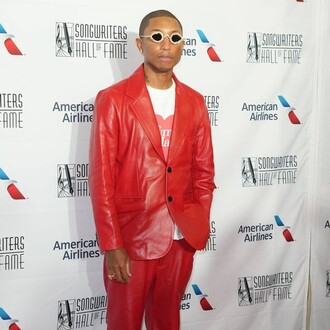 Pharrell Williams built a recording studio at the Louis Vuitton headquarters in Paris so he could go back and forth between making clothes and producing music.
The Happy hitmaker was appointed the men's creative director of the French luxury fashion house in February and presented his first collection during Men's Fashion Week in June.
While he has an enormous new role, Pharrell has not given up on his love of music, and he built a recording area in the Louis Vuitton studio so he could pursue both of his passions.
"I go back and forth between music and clothes," he told GQ. "Songs and shoes, accessories and harmonies. And it's one fluid thing."
The 50-year-old shared that his time in Paris has been very productive for him musically and he has finished three albums' worth of songs since he arrived in France.
His collaborator, Pusha T, has seen Pharrell switch between his music and fashion roles seamlessly in the brand's HQ.
"He's the true definition of a multitasker," the rapper praised. "The way that he can divert his focus and pivot at the drop of a dime is awesome. We're in there working on music, a meeting comes up, it's about color palettes or anything, he leaves the studio, walks right into the war room and gives it his all. Just the way that he can give direction, opinion, very well thought out at the drop of a dime."
In a separate interview with The New York Times Style Magazine, Pharrell explained that he doesn't see much difference between making music and creating clothes.
"Being a producer and a creative director are similar. I can go from apparel to drums, from trunks to melodies. Within my design studio, I have a section allocated to music, so I go back and forth all day," he stated.
Photo: Cover Media
Source: Cover Media
Added automatically
78 views