News
Travis Barker tests positive for COVID-19 ahead of Portugal concert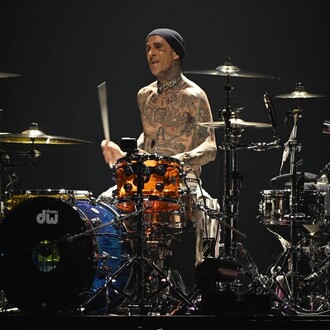 Travis Barker has tested positive for COVID-19 ahead of his Blink-182 concert in Portugal.
The Blink-182 drummer took to his Instagram stories on Friday to share an image of a positive COVID-19 test.
The positive test result came in the midst of his international tour. The rock band are scheduled to perform next on 2 October, at the Altice Arena in Portugal.
Earlier this month, Blink-182 postponed multiple shows in Europe. Travis had rushed home to the United States so he could support his wife Kourtney Kardashian as she received emergency foetal surgery.
"I flew home for a life-threatening emergency surgery for our baby that I'm so grateful went well," he shared on Twitter after the procedure. "God is great."
Band members Tom DeLonge and Mark Hoppus recently reflected on the "catastrophes" they endured in their personal lives, including Mark announcing in 2021 that he had been battling cancer.
"Why does it take these catastrophes... for our band to get back together?" Travis said at the time. "I really feel like Blink is us three, and as soon as we accept that and we just don't settle for anything less than that, I just think that's the future."
Photo: Cover Media
Source: Cover Media
Added automatically
3 views