News
Parton's mailbox surprise from fan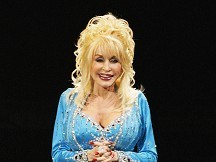 Dolly Parton has revealed the craziest gift she's had from a fan - a box with a baby named Jolene inside.
The country music star, who is back with a new album Better Day, told the Windy City Times: "There are all kinds of things that people ask me to do but I tell this story and it's a true story but freaky. Years ago when I first started being a big star I had fans that were fanatical. It was when Jolene was a big hit.
"We came home one day and there was a baby in a box at our gate with a note in it. The note said, 'My name is Jolene, my momma has left me here and she wants you to have me.' Of course, we all freaked out!"
The Here You Come Again singer continued: "We immediately called human services and took care of the baby until they got there. We never did know or hear anything about it. I knew nothing else. What do you do in a situation like that? There are some loony people in this world."
Dolly also revealed she's hoping to get the story of her life developed for stage and screen - with glamorous Glee star Kristin Chenoweth on her casting wish list.
"I have always wanted to write my life story as a musical for stage. I have been working on that for a few years. There is no set time. It is just when I am done and ready to start doing that," she said.
"Kristin is the person I would love to play me on stage. Who knows who might do the movie version? We will see at the time."
Source: music.uk.msn.com
Added automatically
1327 views