News
Winehouse album set to top chart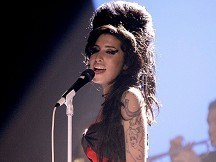 Amy Winehouse could end the week topping the charts following massive demand for her music from fans since her death.
Her acclaimed album Back To Black re-entered the charts at the weekend, almost five years after its release.
Gennaro Castaldo, from HMV, said: "Unsurprisingly we're seeing a huge response from fans and the wider public, with sales of Back To Black surging as our current number one album.
"Obviously, loads of people have been downloading the album, but we believe that many more will want the CD version by way of feeling a more tangible and closer connection with Amy - it's something we tend to see when any great music legend or rock star passes.
"We're working hard with the label to keep up with growing demand, and I feel certain that Back To Black will top the album charts come the end of the week, and probably stay there for a while to come."
The Mark Ronson-produced LP made it to number 59 in the few hours between the singer's death and the sales being counted, the Official Charts Company said yesterday.
Fans also flocked to buy the singles from the 2006 album, the title track Back To Black and Rehab, which re-entered the singles chart at number 81 and number 181 respectively.
Purchases of Amy's albums increased 37-fold between Friday and Saturday, while track sales were up by a multiple of 23.
Source: music.uk.msn.com
Added automatically
1284 views