News
Liam changes mind on vocal warm-ups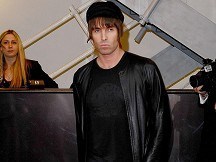 Liam Gallagher has revealed he is finally succumbing to age - by exercising his voice before gigs.
The former Oasis frontman, who now leads his band Beady Eye, previously scoffed at the idea of warming up ahead of shows.
But in an interview with Q magazine, he admits he now takes care of his voice to avoid cancelling gigs.
He said: "I remember having a chat with Roger Daltrey. He was going, 'Oh you should warm up". And I'm like, 'f*** that'.
"I was young and I was like, I'm not doing any of that nonsense'," he said, mimicking practising a scale.
But he said as time went on he has had to "bite his tongue" and now warms up - without "any of that la-la-la nonsense", instead sitting with his guitar for half an hour before going on stage.
He also takes one of his many swipes at his brother and former bandmate Noel - and goes on to accuse Radiohead of copying The Beatles.
The brothers have been in a renewed round of hostilities since the summer when Noel talked about the row which led to him walking out of Oasis.
Asked which figure he has met who has the worst taste in music, Liam said Noel was "into a lot of s***" and "into himself".
Liam told the magazine, on sale on Wednesday, he fails to understand the appeal of Radiohead. "I mean we've all written songs like Creep, y'know, them classic songs. Karma Police is alright, but it's The Beatles, innit?" he said.
Source: music.uk.msn.com
Added automatically
1001 views