News
Jones: I never stop writing songs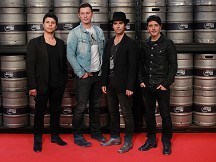 Stereophonics frontman Kelly Jones has revealed he "keeps the tap dripping" to avoid getting writer's block.
The singer and songwriter has penned numerous hit tracks for the band, but says he still hasn't run out of inspiration.
"I've obviously tried to write about whatever I'm going through and whatever I'm doing. No matter who you are or what you do your life changes as the years go on and all I ever do is try to be true to that," he explained.
"When you're younger you've got ten years to write your first record, then you've got six months for the next one and on you go. You have to keep the tap dripping, that's what I've tried to do. I just try to keep writing pieces whenever I can basically."
The Welsh star insisted he's never suffered from writer's block - but knows what to do if it strikes.
"I've never had it, but people I know who do say go back to lots of cover versions and find influences by people you loved when you were a kid, you inspire yourself then. You kind of reignite the fire in you to remember why you did it, because you can forget - and go back to the place where you were brought up," he said.
The band - who recently performed at the Guinness Arthur's Day celebrations in Dublin - also said South American drummer Javier Weyler's influence has rubbed off on the rest of the group.
"There's been Latin flavour on every album since Javier joined, some congas here and there. Javier's rhythm, the way he's brought up, is different," bassist Richard Jones said.
And he joked: "We've become better dancers, we've been getting dance lessons off Javier and ordering mojitos, burritos and caipirinhas everywhere we go."
Source: music.uk.msn.com
Added automatically
1010 views