News
Lauper urges support for Japan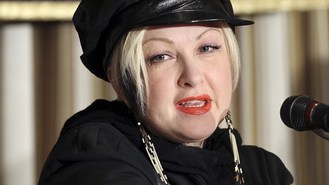 Cyndi Lauper is admired in Japan for not running away after last year's devastating earthquake and tsunami.
Now, the American singer is back to show the Japanese people that she hasn't forgotten them.
Lauper had arrived in Tokyo on March 11, 2011, just as the massive quake struck northern Japan.
She stayed to perform her concerts as planned, even though fears of radiation from a tsunami-stricken nuclear power plant in Fukushima caused many other performers and visitors to flee. She said she stayed to console survivors with her music.
She's now back in the country to perform again. Lauper that she is urging people to buy things from the disaster-hit areas to help people there get back on their feet.
"It's a big tragedy but everybody is trying to move forward. I just want to say, hey, don't forget about Japan," Lauper told a news conference in Tokyo.
Lauper, who arrived earlier this month, travelled to the tsunami-hit areas, stopped off at a school to donate cherry trees and play with the children, visited a temple and explored a music store whose elderly owner fixed a tsunami-damaged piano.
She said she was struck by how people in Fukushima seemed to be shaken by radiation fears and feel isolated. She also raised concerns about a decline in visitors in the north, especially Fukushima.
Source: music.uk.msn.com
Added automatically
1082 views