News
Bieber sorry for making fans wait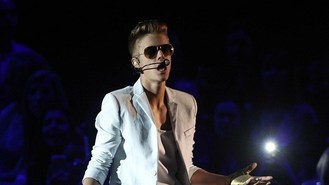 Justin Bieber has apologised to fans for keeping them waiting with a late-running gig which left some young devotees in tears, while many had to leave just minutes into his performance.
The Canadian pop star said there was "no excuse" for his late arrival and added that he was sorry about those he had upset.
The teenage singer had been playing the first of a run of nights at London's O2 Arena last night but many of his school-age fans were forced to leave early to meet parents or catch trains home.
Some fans said he had not taken to the stage until 10.30pm, but Justin posted a string of messages on Twitter this afternoon saying this had been "exaggerated". The 19-year-old - who claimed he was only 40 minutes late - also went on to grumble about the media.
In his online message, Justin said: "Waking up to a crazy day. Last night I was scheduled after three opening acts to go on stage at 9.35 not 8.30, but because of some technical issues I got on at 10.10. So I was 40 minutes late to stage.
"There is no excuse for that and I apologise for anyone we upset. However it was (a) great show and I'm proud of that and tonight we will run on time and look forward to putting on an amazing show for everyone in attendance.
"My relationship with the media is not always easy but I'm trying. I'm all about the music and the performance and I respect my fans."
Fans were left angry and disappointed, with some booing as they awaited his arrival. Many of his young admirers had been expecting to be getting ready to head home by the time he actually took to the stage, with some parents waiting to pick them up confused by what was happening inside the venue.
Some concert-goers complained that they were stranded after the late finish and a number of others had to miss the gig altogether in order to catch the last train home from London. One parent, Wayne Parsonage, complained on Twitter: "Disgusting. Waste of my time and money... never again."
Another tweet complained: "Justin Bieber needs to understand he has fans that are really young. He can't come on stage like 1 hour and 45 mins late on a school night!"
Source: music.uk.msn.com
Added by AutoAdmin
767 views