News
Jepsen's grandma likes Minaj rap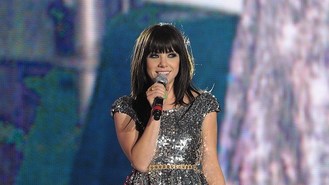 Carly Rae Jepsen has revealed Nicki Minaj's rap performance on the remix of her single Tonight I'm Getting Over You has got the thumbs up from her grandmother.
The 27-year-old Call Me Maybe singer revealed to Radio.com how she gave her family a preview of the single's new remix featuring the rapper and American Idol judge, and they all enjoyed it. But she confessed her grandmother did have trouble understanding what Nicki was rapping.
Carly Rae revealed: "I was home in Vancouver with my whole family when I received it in my inbox. And I was like 'Alright, should we all listen together?' And, I'm not kidding, my grandparents, my aunts and uncles - everyone was there. I brought it down to the living room and we put it on.
"When it was done, my brother shouts, 'I love it!' And my grandmother was like, 'What did she say?' I have no idea, but it was great!' And so we had to listen like three more times before we could understand it."
But the Canadian star insisted her grandparents are very clued up about celebrities and knew exactly who Nicki was when she told them about the remix.
She said: "They are into pop culture. They know everything and they think that I know everything, which is hilarious. I came home for dinner and my Nona says, 'Does Shania Twain have hair extensions?' I'm like, 'I don't know, but next time I go for lunch with her, I will ask.' Which never happens, but it's cute. They think that I know everybody who's famous, which isn't really the case at all."
Source: music.uk.msn.com
Added by AutoAdmin
703 views