News
Stone Temple Pilots sue ex-frontman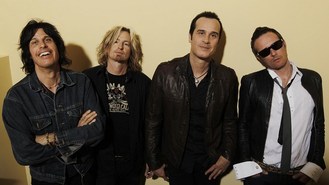 US rock band Stone Temple Pilots have accused former frontman Scott Weiland of misusing the group's name to further his solo career.
The California band are asking a judge to strip the rocker of his ability to use their name or songs.
A lawsuit filed in Los Angeles accuses Weiland of being chronically late to concerts while the group were together and having his lawyer attempt to interfere with the airplay of their new single Out Of Time.
Weiland and Stone Temple Pilots parted in February and the 45-year-old singer said at the time that he learned of his ousting from a statement released to the press.
The lawsuit sheds light on the band's break-up, accusing Weiland of interacting with bandmates only through lawyers or managers and showing up late to the group's 2012 shows.
It cites Weiland's addiction struggles and poor performances as detriments to the band's earning potential.
"The band endured much strife and lost significant opportunities because of Weiland," the suit states.
In a message posted on his website, Weiland said his former bandmates should not call themselves Stone Temple Pilots either. "First of all they don't have the legal right to call themselves STP because I'm still a member of the band," he said. "And more importantly, they don't have the ethical right to call themselves Stone Temple Pilots because it's misleading and dishonest to the millions of fans that have followed us for so many years."
The suit claims the band own the rights to the name Stone Temple Pilots and the band's songs, copyrights and trademarks. Weiland has used many of the band's hits in his solo shows, the lawsuit states. The band now wants a judge to block him from even calling himself a former member of the group.
The group have been re-formed with Chester Bennington of Linkin Park taking the frontman role. The band's hits include Vasoline, 'Interstate Love Song and Plush, which won a Grammy in 1993 for best hard rock performance with vocal.
Source: music.uk.msn.com
Added by AutoAdmin
700 views