News
Hawkwind star Brock honoured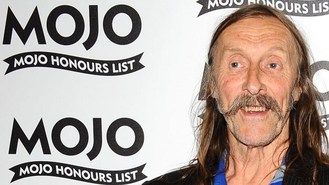 The founder of rock veterans Hawkwind, guitarist Dave Brock, has been honoured at a music awards event for his lifetime achievement.
The 72-year-old musician has been a constant in the group which he founded in 1969, releasing singles such as Silver Machine and Urban Guerrilla, as well as 27 albums. The band's track Masters Of The Universe was last year featured in a TV advert for Ford.
Brock collected the award at the Progressive Music Awards presented by Orange Amplification, which were staged at Kew Gardens in London and hosted by Newsnight host Gavin Esler, a huge prog-rock fan.
Other winners at the event - created by Prog Magazine - included Jethro Tull star Ian Anderson who was named "prog god", while guitarist Steve Hillage, who has played with Gong and System 7 over his four-decade career, took the "visionary" award.
Hawkwind have been fixtures on the festival circuit since their inception and still continue to tour to a devoted fanbase. Over the years musicians such as Lemmy - later to found Motorhead - as well as Robert Calvert, Nik Turner and Huw Lloyd-Langton have been through the ranks. They were also famously joined on stage in the early 1970s by nude dancer Stacia.
Brock said: "It's a great honour to receive this award. It's a hard business to be in, with many ups and downs, but I consider music to be an art form. So come on you young pioneers, there is plenty of room for change in our music world."
The event is designed to honour pioneers and torchbearers for the prog scene which continues to appeal to an army of fans, despite derision over the years.
The winners of the band of the year title were Marillion, who have released 17 albums in a career spanning more than 33 years.
Jerry Ewing, editor of Prog Magazine, said: "In its many varied guises, progressive music remains the most compelling of rock genres."
Source: music.uk.msn.com
Added by AutoAdmin
661 views