News
Legend: I don't need more fame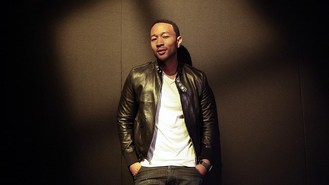 John Legend has revealed he wouldn't want to get any more famous, but he would like to become as successful as his friend Kanye West.
The 34-year-old R&B singer reconnected with long-time collaborator Kanye for his fourth solo album Love In The Future, which is out now.
"I want Kanye-level success. I don't think I'm craving any more fame," said the nine-time Grammy winner.
"But success and being recognised for making great work all around the world, I think it's a great thing. And I'm already not far from there. But Kanye has been a really singular artist that's made a unique contribution to pop culture, and I respect that and I wouldn't mind being known for that as well."
John, who is engaged to 27-year-old model Chrissy Teigen, joked that married life might affect his writing.
"I've written some of my better songs about the ups and downs of relationships. I imagine we'll have some ups and downs too, so I'll tell those stories, too. My fans probably don't want to listen to everything being awesome all the time," he said.
The crooner revealed he is "excited" to become a husband, but admitted the wedding would be a party.
"I'm excited to get married, but I look at it as just a fun party where I want my friends to have a great time. I guess we should look good, too, so the pictures come out nice. But other than that, I feel like it's no pressure," he said.
He may serenade his future wife on their big day, adding: "We've got a DJ and most of the night, it'll be a DJ. But we do have a piano set up at dinner. So I'll probably sing a song or two. And who knows who else will jump on the piano?"
Source: music.uk.msn.com
Added automatically
1002 views