News
One Direction gets hit with Diana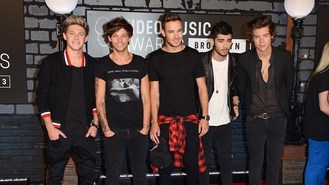 One Direction's new single Diana has topped the iTunes charts worldwide, within a day of its release.
The British boy band - Niall Horan, Zayn Malik, Liam Payne, Harry Styles and Louis Tomlinson - released the track on November 18 as a promotional song from their upcoming album Midnight Memories. It has since shot to number one on iTunes sales charts in the UK, US, Canada, Australia, France, Italy and Brazil, among others.
" People are saying diana is #1 in 81 countries! What the ? That is incredible, thank you guys so much ! Big love," tweeted Niall.
Meanwhile, the group admitted their frustration after the album was leaked ahead of its official release on November 25.
"It is annoying because there's this big build-up and it affects sales," Liam told Digital Spy.
"We really want a number one, so we're just kind of hoping for the best now. Hopefully people go out and buy it. It happens these days all the time. There are some very clever people out there. You're b******! "
Louis added: "It's just frustrating when you work so hard on an album and you kind of want everyone to hear it at the same time. Some select fans won't listen to it until it's out, which is great. But there are others who obviously can't help themselves."
Harry said: "It's just nice to have an impact. If there was an album I liked and I could listen to it a week before, I probably would. It's just nice to have that moment where it builds up to, 'Now it's out and everyone can listen to it'."
One Direction will perform on The X Factor on November 24. Niall tweeted: "It was great to be back home @TheXFactor! Love that place! So nerve wrecking though."
Source: music.uk.msn.com
Added by AutoAdmin
878 views