News
Robin Thicke videos 'demean women'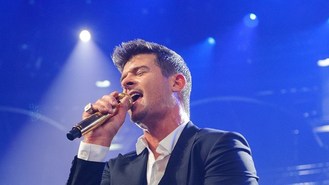 Pop music videos by the likes of Robin Thicke and Calvin Harris are the target of a new campaign against sexism and racism.
Rewind and Reframe, set up in early 2013 by three women's groups - the End Violence Against Women Coalition, Imkaan and Object - wants age ratings applied to music videos.
Its campaigners have written to Prime Minister David Cameron and music industry chiefs calling for change.
Blurred Lines singer Robin Thicke and DJ Major Lazer are among artists who "routinely sexualise and demean women" in their videos, the campaigners say.
Holly Dustin, of the End Violence Against Women Coalition, said: "Any ethical music company and video platform should clearly change its norms and practices.
"And the Government has a role to play too, in implementing age ratings for this material so that there is clear guidance on the content of music videos."
Several universities have banned playing Robin Thicke's Blurred Lines song over fears it glamorises rape and its lyrics are sexist.
Around 20 institutions including the universities of Chester, Brighton and Gloucestershire have now stopped it from being played in their student union bars.
An online petition addressed to the Prime Minister is calling on him to put age ratings on music videos whether they are sold in shops or viewed online.
A new website has been launched by the campaign where young women are blogging about their views on music videos.
And open letters have been sent to the Mr Cameron, chief executives of the BPI, the trade association for the UK recording industry, and music video website Vevo.
Vevo has been criticised by the campaigners for having "vague" terms and conditions which make it difficult to complain about sexist-racist material.
Ikamara Larasi, of Imkaan, said: "In 2010 we had conversations with young black and minority ethnic women in the UK which included how they felt about representation.
"They felt frustrated with the absence of representation, let alone positive representation of their identities in the media, and specifically highlighted the over-sexualised images of young BME women in music videos, a long running issue.
"A few years on, this issue remains unaddressed, and has perhaps worsened."
The project is calling for platforms such as Vevo to develop tougher policies to prevent the hosting of "racist and sexist" music videos.
The Rewind and Reframe campaigners are also seeking a pledge from the music industry, including artists and music companies, to stop making music videos which they say represent women as sex objects.
Silvia Murray Wakefield, of Object, said: "Sexist and racist music videos portray women as sex objects according to harmful stereotypes.
"Young women tell us they are sick and tired of music videos presenting women as faceless and semi naked sex objects who exist as the property of men."
Source: music.uk.msn.com
Added automatically
1069 views