News
Nerves kick in for Poppy Girls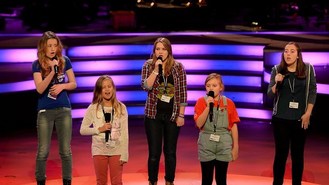 The Poppy Girls have confessed the nerves are starting to kick in as they prepare to perform for the Queen.
Charlotte Mellor, 17, Bethany Davey, 15, Alice Milburn, 13, Megan Adams, 10, and Florence Ransom, 10, have been rehearsing at the Royal Albert Hall ahead of tomorrow's (November 9) Royal British Legion's Festival of Remembrance.
The schoolgirls - who all have fathers serving in the Armed Forces - will perform their 2013 Poppy Appeal single The Call (No Need To Say Goodbye) at the concert.
Alice Milburn said of the Royal Albert Hall: "I just walked in there and I had to pick my jaw up from the floor. I'm a bit nervous, I hope I don't mess up."
Charlotte Mellor also admitted to feeling nervous. "I t's a bit like waiting for Christmas and your birthday and everything to happen at the same time," she added.
Bethany Davey said: "I'm not nervous yet. I don't think I'll be nervous until just before I go on stage. At the Poppy Appeal launch I was fine until just before we went on and then I cried, so I expect I'll feel something similar."
Charlotte, the eldest of the group, admitted the past few weeks had been tough on the girls as they adjusted to living life in the spotlight.
"It has been hard," she said. "It's a lot of pressure but it's been such an amazing experience. We've met so many people and we've grown so close.
"We're such a massive family now, and we're all supporting each other. Especially with Megan, her dad's away at the minute and we've all been through the same thing. Everyone's supporting each other and we're trying to keep each other strong. We've all had our breakdowns but it has been absolutely amazing."
All the girls are now hoping to pursue careers in music, although several of them are also planning to follow their families into the military.
Charlotte said: "Personally I've always wanted to do musical theatre, and that's the ultimate dream. But I'm planning on joining the Army as well. The med corps.
"I know a lot of the other girls want to go into music. Megan and Bethany want to go into pop, Alice is more country and me and Florie want to go into musical theatre."
Also performing at the concert will be ex-Army officer James Blunt, Katie Melua, Alfie Boe and various leading military bands.
Source: music.uk.msn.com
Added by AutoAdmin
683 views