News
Bieber 'sorry' for mistreating flag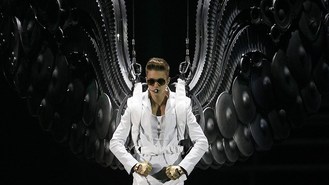 Justin Bieber has said he hopes Argentines can forgive him for mistreating the country's flag - but could still face court action
The 19-year-old pop sensation faces two criminal complaints and demands for refunds in Argentina, in addition to trouble with police for allegedly spraying graffiti in Brazil and Colombia.
One Argentine lawyer is accusing Bieber of sending bodyguards to attack a photographer outside a Buenos Aires nightclub early on Saturday.
Another accuses him of defiling the national symbol by dragging two Argentine flags off stage with his feet and a microphone stand in front of 45,000 "beliebers" during the first of two scheduled concerts in River Plate stadium.
Defiling the flag is a crime that carries a maximum penalty of four years in prison.
A flurry of tweets appeared yesterday on Bieber's official Twitter account apologising for his behaviour.
"I love Argentina and have had some of the best shows of my tour there," one said.
A fan video that went viral on social media shows Bieber with two Argentine flags that audience members threw on to the stage.
Musicians on world tours usually pick up national symbols to show appreciation for their fans. In the same stadium in recent years, Madonna draped an Argentine flag over her shoulders, Mick Jagger wore an Argentine national football jersey, and Sir Paul McCartney thrilled the crowd by waving a huge Argentine flag back and forth.
Bieber, however, "proceeded to wipe the floor with the national symbol of the Argentine Republic, an act considered a crime by our law", said the criminal complaint filed by attorney Alejo de la Torre of Cordoba.
One of Bieber's tweets said that "people throw stuff on my stage all show" and he gets things off stage so no one is injured. In other tweets, he said, that "even if it was a flag I would never do anything to disrespect Argentina" and "I hope you can forgive this mistake".
Bieber has also been sued by Buenos Aires lawyer Matias Morla, who represents a paparazzi photographer who alleges he was chased and beaten by Bieber's bodyguards outside the INK nightclub, where the singer and his entourage partied on Saturday.
Bieber also angered Argentines by abandoning a Sunday concert after less than an hour and not showing up for a photo-op that some fans paid hundreds of pounds extra for. The singer's manager, Scooter Braun, said Bieber came down with food poisoning after a concert on Saturday, and despite eight hours of intravenous fluids, insisted on trying to do Sunday's concert against doctors' advice.
The Argentine Consumers Union has urged people to formally register for refunds for tickets, accusing the Canadian-born Bieber of violating his contract and defrauding fans.
His tweets apologised for that, too, writing that it was "my mistake" and saying he "would never do anything to disrespect my fans".
"I loved my time there performing for you and look forward to coming back. I gave my all and I know the fans did there too," a tweet said.
Source: music.uk.msn.com
Added automatically
1130 views