News
Van Morrison firm defends crew fee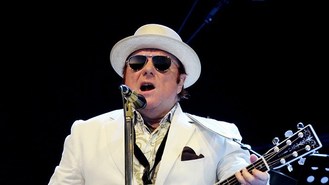 A £36,000 bill charged by Van Morrison's band to play at a concert where he will be awarded the Freedom of Belfast has been defended by the star's company.
While Morrison is performing free of charge, Belfast City Council, which is organising the Waterfront Hall show in the city, has signed off an agreement for his band and associated crew to be paid.
The payment has been heavily criticised by a number of city councillors.
The concert, before an invited audience of more than 2,000, is taking place tomorrow night (November 15). Tickets have been allocated free of charge through a draw open to Belfast residents.
Morrison's company Exile Productions insisted the charge for the band was justified.
"We are very saddened that certain people have felt the need to sully the special event," said a statement posted by the company on the musician's website.
"The most important thing to Van is that he is doing his gig for free and that the people of Belfast are coming to see it for free. Van's band and crew are themselves working people and deserve to be paid for their services like anyone else."
The £36,000 fee for the band and crew does not include costs for special receptions before and after the concert, which is scheduled to last for an hour and 45 minutes.
Ulster Unionist councillor Jim Rodgers has said he is shocked and amazed at the payment.
He said: "As far as we were aware this was a free concert."
The Alliance Party's Maire Hendron said she too was surprised that a payment was being made for the performance, while Democratic Unionist Lee Reynolds said he was astonished.
"I'm gobsmacked," he said.
But Sinn Fein councillor Jim McVeigh has said the concert would be worth the money.
The event has already sparked controversy after it emerged a fifth of the tickets had been reserved for VIPs.
Two thousand tickets were released to members of the public in Belfast through a lottery system but there was a huge outcry after it emerged 500 were being held back for councillors, senior staff and special guests.
Belfast City Council agreed in September to grant its highest honour to the singer, who is only the second person in 10 years to receive the accolade.
In a statement, a spokeswoman for Belfast City Council said: "Van Morrison has not asked for, and will not be receiving, a fee. Van's band and crew will receive their standard professional fee but details of the exact amount is privileged under the Data Protection Act, on the grounds of commercial confidentiality."
Source: music.uk.msn.com
Added by AutoAdmin
677 views