News
Gaga: I don't want Madonna throne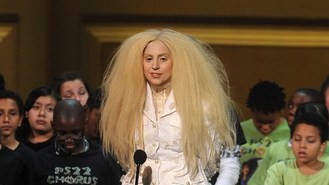 Lady Gaga has hit out over her supposed rivalry with Madonna, insisting "I don't want your throne".
The Applause singer has been embroiled in a feud with the Queen of Pop after Madonna claimed Gaga's track Born This Way sounded "familiar" to her own hit Express Yourself. Gaga has always been open about being a big fan of Madonna, admitting she influenced her style and music.
Asked about the rivalry by US shock jock Howard Stern, Gaga said: "I think she's more aggravated that I'm not upset that she doesn't like me. 'Cause I don't care that she doesn't like me... No, I don't care... It's such nonsense.
"It's silly... There's always this p***ing match: 'She's taking her torch, is she the new her, is she going to outlast her or not?"
"There's this thing with some people that I'm a threat to the throne. I don't want your f**king throne, no thanks, I have my own. I actually don't want a throne at all, because I don't view myself as a queen, I view myself as one of my fans."
Gaga, 27, also opened up about her relationship with Vampire Diaries star Taylor Kinney.
She revealed: "To be fair, he has stuck it out with me for a very long time through drug habits and all those sorts of things. So he's a really lovely, amazing person.
"We're both very protective of our love as well. We treat each other with a lot of care and we're good to one another.
"And he also doesn't care about me being famous. I'm not famous to him, I'm his baby.
"You know what, I've spoken a lot about my Taylor and... I don't want to kiss and tell too much. I'm a little bit more of a lady than that."
Source: music.uk.msn.com
Added by AutoAdmin
629 views