News
Britney gun scene cut from video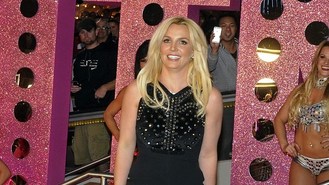 Britney Spears' fans are campaigning for the full version of the video to Perfume to be released after it emerged scenes had been cut.
Model Alexander Kjellevik, who plays Britney's cheating ex-lover in the video, revealed to MTV News the singer was filmed wielding a gun in the full version of the video, but the scenes were cut because they were considered unsuitable for a younger audience.
And director Joseph Kahn has tweeted that he wants the director's cut of the video to be seen as Britney's performance is "unbelievable" prompting fans to start an online petition for her record label RCA to release it.
Alexander revealed: "There was a little bit more story. I think maybe the reason why they cut it out [was] there were guns and stuff in there. There were some scenes that were maybe not good for a younger audience. It was more like the story behind, they kind of made it simpler so it was easier to understand maybe. I think Britney had a gun.
"It's like a love story triangle... There's a whole story behind it and it's a shame you don't get to see the whole reason behind everything."
Director Joseph tweeted: " Wish they'd release the director's cut of #perfume. Britney's performance is unbelievable. A true artist in it. Game changer. Official cut is a good video as you'll soon see. But it's a true loss not to see what she really did. It's incredible. Beyond other artists.
"Maybe if your voice is loud enough they'll release it. But other than that, I just needed to tell the truth. Something amazing is waiting."
The online petition set up by fans for the release of the full version at www.ipetitions.com/petition/perfume already has over 12,500 signatures.
Source: music.uk.msn.com
Added automatically
1030 views