News
Chili Peppers defend Super Bowl act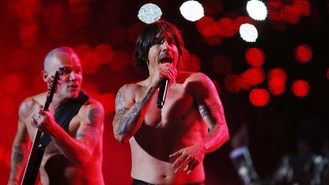 Red Hot Chili Peppers have revealed that they were aware they would have to mime during their Super Bowl performance.
Bassist Flea admitted the band's instruments were not plugged in as they performed Give It Away with Bruno Mars during the halftime show of the American football championship in East Rutherford, New Jersey, although Anthony Kiedis sang live.
"When we were asked by the NFL and Bruno to play our song Give It Away at the Super Bowl, it was made clear to us that the vocals would be live, but the bass, drums, and guitar would be pre-recorded," he wrote on the band's website.
He explained the NFL's rules, given the time restrictions, adding: "There was not any room for argument on this, the NFL does not want to risk their show being botched by bad sound, period. "
Despite the group's stance that they "will absolutely not do" any miming, Flea said the group decided to go through with the show because the opportunity was too great for the football fans to turn down.
"It was a surreal-like, once in a lifetime crazy thing to do and we would just have fun and do it," the 51-year-old continued.
"We decided that, with Anthony singing live, that we could still bring the spirit and freedom of what we do into the performance, and of course we played every note in the recording specially for the gig. I met and spoke with Bruno, who was a beautiful dude, a real talented musician, and we worked out something that seemed like it would be fun."
Flea added: "I would do it all the same way again."
A record 115 million people tuned in to watch Bruno and the Red Hot Chili Peppers, beating audiences of 114 million for Madonna and 110 million for Beyonce.
Source: music.uk.msn.com
Added automatically
916 views