News
Pharrell wants Elton John duet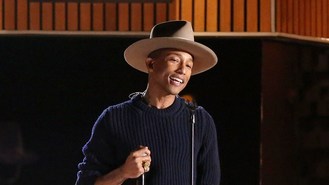 Pharrell Williams has revealed that a collaboration with Sir Elton John would make him Happy.
The Get Lucky singer-songwriter, who has scored an Oscar nomination for his track Happy, even named his son Rocket after Elton's hit Rocket Man.
"I really respect Elton John's music and I'd love to do something with him," he said.
"Contrary to popular belief, Rocket's middle name is not Man. But Elton John's Rocket Man song was a part of it and also Stevie Wonder's Rocket Love. But Elton would be really interesting."
Pharrell, who has worked with the likes of Snoop Dogg, Daft Punk, Nile Rodgers, Jay Z and Robin Thicke on hits such as Get Lucky, Blurred Lines and Drop It Like It's Hot, would also like to bring the warring Gallagher brothers - Noel and Liam - back together.
"Who wouldn't want to work with the Gallaghers? Yeah, both of them. And I can't give this away but I'm a huge fan of Jamiroquai. Man, I'd love to," he added.
The 40-year-old also dreams of working with Stevie Wonder on a record, following their performance of Daft Punk's Get Lucky at the Grammys last month.
"I would love to do a whole album with Stevie Wonder. That would be amazing. He doesn't need me, but it'd be amazing," he said.
"We had a performance and I couldn't believe I was on stage (with him). I remember listening to all his songs for the first time in my grandmother's apartment, and then to be on stage in LA with Steve. That was like, 'Where am I? What's going on? Just don't wake me up'."
Williams, who is surprising a fan as part of Pharrell's Priceless Surprise with MasterCard, revealed it took nine attempts to write Happy, which features in Despicable Me 2.
"It's probably one of the best things I've ever done. It took me a while to get there - it was nine songs in for that one scene. None of them worked, so (producer) Chris Meledandri continued to push me because he felt it was a pivotal moment in the movie," he said.
"I tried so hard to get there and nothing was working. When I finally ran out of ideas, that's when I asked myself the question - 'How do you make a song about a guy who's happy in a relentless mood?' and the answer was in the question."
He admitted he is still pinching himself over the Oscar nomination, and his upcoming performance at the Academy Awards.
"I'm in disbelief. I can't believe that. All of this is an amazing moment and I just intend on showing the people my thanks," he said.
To hear more about Pharrell's Priceless Surprise with MasterCard, follow @MasterCardUK and keep checking www.somethingforthefans.co.uk.
Source: music.uk.msn.com
Added automatically
886 views