News
Cyrus' emotional tribute to dog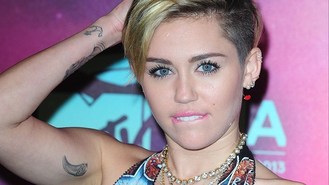 Miley Cyrus has broken down in tears on stage, as she paid tribute to her "favourite dog".
The Bangerz singer got emotional when she performed in Boston, wracked by grief at the death of her Alaskan Klee Kai Floyd, reported People.
"It's going to be hard for me to do this next song. I'm not sounding like myself, and I'm not feeling like myself," the 21-year-old pop star told the crowd as tears streamed down her face during a sound check.
"I'm sure you guys already know the reason I'm upset. I shouldn't say he was my favourite, but he was my favourite. He passed away."
Miley then dedicated Fleetwood Mac's song Landslide to her late canine companion, saying: "I just want to do a song for him because we used to always listen to Fleetwood Mac together, and it was his favourite song."
Her emotions got the better of her during the concert, and she had to stop singing to cry several times. She also broke down while singing Lana Del Rey's Summertime Sadness and Coldplay's The Scientist - and her younger sister Noah came out and gave her a hug during the Coldplay song.
She also asked fans for emotional support: "Your responsibility is to get me through, I think, the hardest day of my entire life," she said.
She previously warned fans that she may not be on top form, writing on Twitter: "I'm sorry in advance if I am not myself tomorrow Boston. I will try my best to be my best."
Miley later revealed she was seeking comfort with one of her other dogs, Mary Jane.
"Crackin' a smile thanks to Mary Jane. Getting choked out by Mary Jane has never felt soooo good," she tweeted.
Source: music.uk.msn.com
Added automatically
930 views