News
Lorde: I'm not a musical genius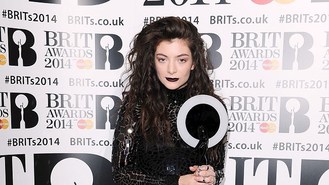 Lorde has laughed off suggestions that she is a talented genius.
The 17-year-old Royals hitmaker has been described as the "Sylvia Plath of pop music", which she is quick to brush away in an interview with Canada's Fashion magazine.
"Never for a second would I put myself beside a genius like Sylvia Plath! I may have specific tastes but I'm not trying to be avant-garde with my approach or my music," she said in the May issue.
"I like indie [rock], pop and literature. I like to play with them but that doesn't make me a genius," she added.
The New Zealand singer's role models include women who aren't afraid to challenge societal norms such as rocker Patti Smith.
"I'm drawn to women who aren't painted in history as sweet figures," she said.
"Patti Smith was prickly. She was frustrated. She didn't take people's s***. There's no better music idol for young women, because there is a lot of pressure for us to be really positive all the time. Every photo shoot I do, I get asked for big smiles, and I shouldn't have to be that way."
Lorde, whose real name is Ella Marija Lani Yelich-O'Connor, also revealed she likes dressing androgynously.
"Jackets and pants are my power clothes. I agree with Annie Lennox when she said, 'Wearing a suit is like wearing armour'," she said.
"I wore pants and a shirt at the Grammys because it made me feel confident. I remember looking at early photos of Patti Smith when she was wearing those men's shirts she chopped off at the sleeve. That, to me, is the strongest look in the world."
Source: music.uk.msn.com
Added automatically
899 views