News
Wilko recovering after cancer op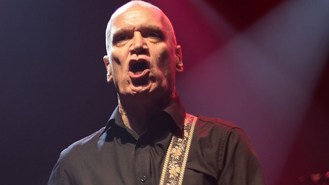 Doctors are said to be "cautiously optimistic" following a nine-hour cancer operation on guitarist Wilko Johnson.
The former Doctor Feelgood star - who recently scored a top three album with The Who's Roger Daltrey - underwent a pioneering and complex operation to remove a large tumour and extensive sections of his digestive system.
The 66-year-old had previously chosen to avoid treatment after being told he had a terminal illness when he was diagnosed with pancreatic cancer in late 2012.
But recent tests showed it was not as aggressive as had been previously thought and the operation was offered as a chance to save his life.
Johnson has cancelled a string of commitments including an appearance at the Glastonbury festival to allow himself time to recover.
His manager, Lisa Climie, said: " Wilko is recovering following a nine-hour operation on Wednesday in which doctors successfully removed a pancreatic tumour.
"The head of the medical team treating Wilko said that they were happy with his condition. Wilko will stay under very close observation for the next few days.
"Although cautiously optimistic, the team have to stress that it is very early days yet. The family thank everyone for their good wishes and ask for some privacy at this time so they can support Wilko with his recovery in peace."
Johnson went on to play with Ian Dury And The Blockheads for a spell after leaving Doctor Feelgood in the 1970s, and then had a lengthy solo career.
He enjoyed his biggest success for decades earlier this year thanks to his Going Back Home collaboration with Daltrey.
The musician, who has also appeared in TV hit Game Of Thrones, has talked of having a sense of "euphoria" after being given his diagnosis, feeling a new joy for life.
He underwent the operation at Addenbrooke's Hospital in Cambridge.
In an interview with GQ magazine before he went in for the procedure, he said: "There is a small chance of dying, but that's nothing, because for over a year I have been living with a 100% chance of dying."
He also talked about how he was having to come to terms with the fact that his life could be saved.
"It's unreal to me. I'm going to have to readjust my mind as well as my body."
The surgery involved the removal of his pancreas, spleen, a section of his stomach and intestines and some of the blood vessels to his liver.
Johnson made a public appearance at the Music Week Awards in London last week to support Daltrey who was receiving an award for his charity work for the Teenage Cancer Trust.
Source: music.uk.msn.com
Added automatically
882 views