News
Jack White sorry for negativity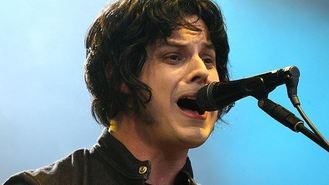 Jack White has apologised to The Black Keys, Danger Mouse, Adele, Meg White and "anyone I've offended with my comments about my creativity, their creativity, and the music business in general".
The 38-year-old musician has published a lengthy statement on his official website, saying he wished to "clear up a lot of the negativity surrounding things I've said or written".
Jack's apology appears to be mainly aimed at rock duo The Black Keys. His apparent "grudge" against them first emerged in 2013 when lawyers representing Jack's ex-wife, Karen Elson, filed court papers that happened to contain private comments he had made about The Black Keys frontman Dan Auerbach. In an email sent to Karen, Jack reportedly described Auerbach as an "a**hole" who gets "free reign to follow me around and copy me".
Then, in an interview with Rolling Stone, Jack said: "There are kids at school who dress like everybody else... and there are musicians like that, too. I'll hear TV commercials where the music's ripping off sounds of mine, to the point I think it's me. Half the time, it's The Black Keys."
In the same interview he want on to criticise Duffy, Lana Del Rey and Adele for copying Amy Winehouse.
Jack said: "Did [Amy] invent white soul? Wearing a beehive? No. But she did something brand new and fresh, altogether as a package, and you see who's in her wake."
He also appeared to hit out at his former White Stripes bandmate Meg White, describing her as "one of those people who won't high-five me when I get the touchdown".
Jack wrote in his statement: "I felt in a way forced into talking about very private opinions of mine that are very much in the realm of "behind the curtain" show business conversations, and things to do with my own family and friends. These are things I never talked about publicly, but through the actions of lawyers trying to villainize me in a private legal scenario, my private letters were made public for reasons I still don't understand. They contained comments that were part of a much bigger scenario that is difficult to elaborate on, and also one that I really shouldn't have to explain as it was personal and private in nature."
He went on to apologise, saying: " I wish the band the Black Keys all the success that they can get. I hope the best for their record label Nonesuch who has such a proud history in music, and in their efforts to bring the Black Keys songs to the world. I hope for massive success also for their producer and songwriter Danger Mouse and for the other musicians that their band employs."
Jack added: "Remarks I've made about the state of the music business and about how certain acts create new markets in the minds of music lovers are also very difficult to clarify without exacerbating the issue... it sounded a lot more negative than it was meant to.
"I wish no slight to the talents of Winehouse, Duffy, Lana del Rey, and Adele. All of whom are wonderful performers with amazing voices.
"Meg White, who I also talked about to Rolling Stone about our working conversations, or lack thereof, is, of course, a musician I've personally championed for 15 years. She is a strong female presence in rock and roll, and I was not intending to slight her either, only to explain how hard it was for us to communicate with our very different personalities. This got blown out of proportion and made into headlines, and somehow I looked like I was picking on her. I would never publicly do that to someone I love so dearly."
He ended his statement: "God bless the Black Keys, Danger Mouse, Adele, Meg White, and anyone else I've spoken about, and thank you for understanding. Good fortune to all of them, and I'm sorry for my statements hurting anyone."
Source: music.uk.msn.com
Added automatically
917 views