News
Cocker: Glasto fans need 'warm' act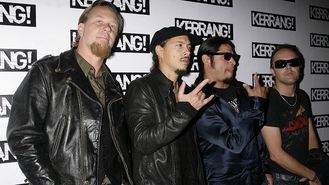 Metallica are too "abrasive" for Glastonbury festival goers, Jarvis Cocker has claimed.
The Californian heavy metallers are headlining at Worthy Farm on the closing night, but the Pulp frontman - who will DJ at the event - admitted he has his doubts about whether they're the right choice for the top billing.
"It's an interesting choice. It could be a bit abrasive," he said on BBC Radio 5 Live.
"You've got to remember that there's a lot of people out there with fragile mental states, because they've probably not had much sleep and they've been indulging in certain things. So the main thing is to be a vague, warm, friendly presence. Whether a full-borne rendition of Enter Sandman is going to fill those criteria I don't know," he added.
Pulp headlined the event in 1995 when The Stone Roses had to pull out.
Arctic Monkeys' singer Alex Turner has also criticised the decision for Metallica to front the 2014 festival, saying it "doesn't add up".
He added: "I know we'd buzz off it, but fundamentally could you have Metallica in the hippy nucleus?"
Metallica's booking has proven controversial, with more than 30,000 followers joining a Facebook petition to ban the act from Glastonbury. Some have said the group's inclusion is against the event's environmental ethos, as frontman James Hetfield supports bear hunting.
But drummer Lars Ulrich hit back, telling Metal Hammer: "We're fairly thick-skinned and turn a blind eye to it or whatever. Glastonbury is like the Holy Grail in England and we're respectful to that. But when somebody sits there and talks about petitions... there's a point that it just becomes ridiculous."
Arcade Fire and Kasabian are the other headliners for this year's event, performing alongside acts such as Robert Plant, Jack White and Dolly Parton.
Source: music.uk.msn.com
Added by AutoAdmin
795 views