News
Sharon Osbourne in U2 Twitter rant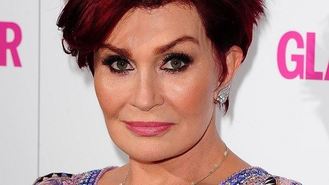 Sharon Osbourne has criticised U2 for releasing their "mediocre" album free on iTunes - calling the Irish rockers "business moguls not musicians".
U2 surprised fans when they gave Songs Of Innocence to around half a billion iTunes music store users as well as subscribers to their website.
But Apple then had to release a special tool allowing people to remove the album from their collections, after some iTunes users complained about it being automatically added to their accounts.
Now Shazza has tweeted: "Y ou are business moguls not musicians any more. No wonder you have to give your mediocre music away for free cause no one wants to buy it."
She wrote: "Guys nothing is for free, how much you making? PS, btw you are just a bunch of middle age political groupies.
"Whose political a** are we going to pull you out of today? Or are you front row at another tragic fashion show?..."
The Talk host, former X Factor judge and wife of rocker Ozzy Osbourne called iTunes and U2 "a bunch of megalomaniacs".
She then posted a link to the tool which allows people to remove the album, saying: "Here's how to say NO to @U2's new record that was forced upon you by @iTunes.
"This is an invasion of my private space. My entertainment space."
Her comments come after the Entertainment Retailers Association (ERA) criticised U2's decision to give away their album, saying that it did not lead to a huge surge in sales of the band's back catalogue.
It said 6,047 additional copies of their 19-album back catalogue was sold in the UK last week, with less than 60 of those going through High Street stores.
ERA Chairman Paul Quirk said: "This vindicates our view that giving away hundreds of millions of albums simply devalues music and runs the risk of alienating the 60 per cent of the population who are not customers of iTunes.
"If one of the justifications of this stunt is that it would drive sales of U2's catalogue through the market as a whole, then so far at least it has been a dismal failure."
Source: music.uk.msn.com
Added automatically
911 views