News
Dappy assault sentencing adjourned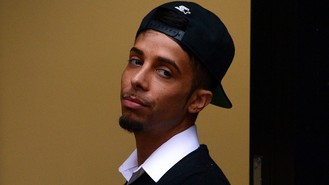 Dappy has declared "I'm free" after sentencing for his nightclub assault was adjourned.
District Judge Davinder Lachhar warned the N-Dubz star that she was "thinking of a custodial sentence" before deciding to send the matter to Crown Court.
Dappy, who was tried under his real name Costadinos Contostavlos, was found guilty last month of punching a man on the dancefloor of Evissa nightclub in Reading.
Ms Lachhar told a sentencing hearing at Reading Magistrates' Court that the matter should be dealt with at Guildford Crown Court.
She said this was because the 27-year-old committed the offence while serving a six-month suspended sentence handed down by that court for a previous affray and assault, which could now be activated.
Dappy, who entered the courtroom with a large black holdall, held his hands out in prayer as the judge gave her decision.
After being granted unconditional bail, he said "thank you madam" before breathing an audible sigh of relief and looking to the ceiling with his head against the glass window of the dock.
As he left the court building, the troubled star posed for a photograph with a young fan before telling reporters: "How do I feel? I'm free."
Ms Lachhar told the court: "This is a man who obviously has violent tendencies, to put it mildly."
Dappy's barrister, Jon Harrison, replied that his client "accepts he has issues surrounding confrontation".
Before adjourning the hearing, the judge said the singer's conviction meant he was "in breach" of the previous suspended sentence.
She added: "Certainly from my part I would be thinking of a custodial sentence but it's only right that the same court should sentence you."
Last month's trial heard the fight broke out in the early hours of October 6 last year because Dappy, from Hatfield in Hertfordshire, began chatting to Devonn Reid's female friend and girlfriend at the club's bar, and that the singer punched him after Mr Reid told him not to talk to them.
During the sentencing hearing, prosecutor Zainab Mohamed read out a victim impact statement from Mr Reid, who was celebrating his 21st birthday at the time of the attack.
He wrote: "Since the assault happened I haven't been going out as much."
He revealed he had received messages from people threatening to "sort me out" and described how the court case had "brought everything back up for me".
Mr Reid also wrote that his shirt and jumper costing a total of around
Source: www.msn.com
Added automatically
837 views