News
Florence + The Machine Reveals New Single + Album Tracklisting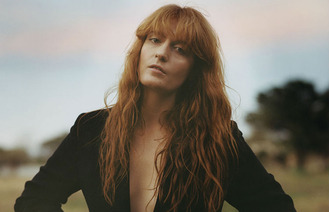 Florence + The Machine have not only unveiled her new single, but also the first details and tracklisting of her new album, How Big How Blue How Beautiful. Watch the video for 'What Kind Of Man' and see all other album details below.
Welch's third studio album will be released on 1 June on Island Records and is produced by Markus Dravs (Björk, Arcade Fire, Coldplay) with contributions from Ceremonials producer Paul Epworth, Kid Harpoon (who she previouls with on Shake It Out) and John Hill, as well as string arrangements from Will Gregory of Goldfrapp.
The new single, 'What Kind Of Man' is all we love about Florence but taken to new, soaring, classic rock heights. It shows the fierce edge that Welch had always threatned, fully-realised and blooming with grace. Naturally, it has an epic video to boot - filmed in Mexico, and directed by Vincent Haycock.
"Markus has done a few Arcade Fire albums," Welch explains, "and he's done Björk's Homogenic, which is a huge record for me. And I felt he had that balance of organic and electronic capabilities, managing those two worlds. And, you know, he's good with big sounds. And l like big sounds. And he's good with trumpets, and I knew I wanted a brass section on this record."
She continued: "I wanted to make something that was big but that had a gentleness to it. That had a warmth, that was rooted. I think that's why we went back more to the live instruments. Something that was band-led almost."
After recording her last album Welch has adjusted to live off the road. "It was sort of a crash landing" she explains. "I guess although I've always dealt in fantasy and metaphor when I came to writing, that meant the songs this time were dealing much more in reality.
"Ceremonials was so fixated on death and water, and the idea of escape or transcendence through death, but the new album became about trying to learn how live, and how to love in the world rather than trying to escape from it. Which is frightening because I'm not hiding behind anything but it felt like something I had to do."   
The tracklisting is as follows:
1. Ship To Wreck
2. What Kind Of Man
3. How Big How Blue How Beautiful
4. Queen Of Peace
5. Various Storms & Saints
6. Delilah
7. Long & Lost
8. Caught
9. Third Eye
10. St Jude
11. Mother
Florence + The Machine is currently a favourite to headline Glastonbury festival, but is also rumoured as the final headliner for Reading & Leeds. No UK dates have been announced yet, but the remainder of her 2015 festival tour plans are below. For tickets and more information, visit here.
APRIL
12 – Indio, CA @ Coachella Music Festival
19 – Indio, CA @ Coachella Music Festival
JUNE
05-07 – New York, NY @ Governors Ball Music Festival
11-14 – Manchester, TN @ Bonnaroo Music Festival
19-21 – Scheeßel and Neuhausen ob Eck, DE @ Hurricane and Southside Festivals
25-28 – Werchter, BE @ Rock Werchter
27-07/04 – Roskilde, DK @ Roskilde Festival
JULY
16-19 – Benicàssim, ES
18 – Lisbon, PT @ Super Bock Super Rock
AUGUST
17 – Budapest, HU @ Sziget Festival
11-15 – Oslo, NO @ Oya Festival
13-15 – Göteborg, Sweden @ Way Out West
14-16 – Helsinki, FI @ Flow Festival
Source: www.msn.com
Added automatically
670 views