News
Chad Kroeger relieved to speak about Avril Lavigne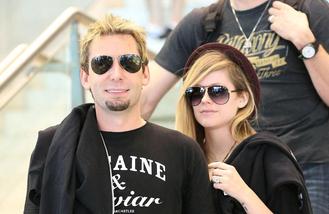 Chad Kroeger is relieved Avril Lavigne has revealed her battle with Lyme disease.
The 30-year-old singer was left bedridden for five months when she was struck down with the infectious disease, which is caused by tick bites, last month and her husband is pleased he no longer has to "hide" her problem.
He told Australian radio station KIIS FM: "I'm like, 'OK, the wife has come out and said this, and now I don't have to keep hiding.'
"With everyone going 'What's wrong with your wife? What's wrong with your wife?' and me just going, 'Ah, she's gonna be fine.'
"I'm like 'OK, I can talk about this now.'"
The 40-year-old singer admitted the 'Hello Kitty' hitmaker had asked him not to speak about her condition.
She told him: "Can you do me a favour? When you do all your interviews, can you not talk about it."
Chad is relieved Avril is now on the mend.
He said: "Things are looking up and definitely getting better."
Avril previously admitted she thought she was "dying" when she was stricken with the disease.
She said: "I felt like I couldn't breathe, I couldn't talk and I couldn't move. I thought I was dying.
"I had no idea a bug bite could do this. I was bedridden for five months."
At times the 'When You're Gone' hitmaker didn't shower for weeks because she couldn't stand up and her mother had to move into her home in Ontario, Canada, to look after her while Chad was on tour.
She said: "There were definitely times I couldn't shower for a full week because I could barely stand.
"It felt like having all your life sucked out of you."
Source: www.msn.com
Added automatically
775 views