News
Motorhead cancel San Antonio show due to Lemmy's illness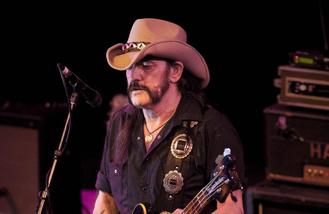 Motorhead had to cancel their planned concert in San Antonio, Texas, on Wednesday (02.09.15) as frontman Lemmy is still suffering from altitude sickness.
The heavy metal band had to stop their gig in Austin on Tuesday (01.09.15) after playing just three songs as Lemmy is still unwell.
He told fans: "I can't do it."
Lemmy, 69, first got altitude sickness during a concert in Salt Lake City, Utah, on August 27 as the thin air in the city made it difficult for the rocker to breathe.
Following the aborted gig in Austin, a post on the group's Facebook page read: "As you might have heard, Motorhead again had to abbreviate a performance due to Lemmy not feeling well. This is a direct follow-on from the altitude issues in Colorado, and clearly, Lemmy tried to get back at it too quickly. For this reason, Motorhead will not play in San Antonio tonight, but the show will still go on with Saxon headlining. Lemmy will resume duties the moment he is properly rested and firing on all cylinders again. The legendary Motorheadbanger patience is much appreciated, and the band send their deepest thanks. More details will be released soon."
Hard-living Lemmy has suffered from various medical issues in recent years, being fitted with a pacemaker in 2013 and suffering a haematoma in 2014.
The 'Ace of Spades' singer has been instructed by doctors to cut back on drinking alcohol and smoking, but has vowed to keep touring.
He said: "I've had some health scares, I've had to really cut back on smoking and drinking and whatever. But it is what it is. I've had a good life, a good run. I do what I do still. I'm sure I'll die on the road, one way or another."
Motorhead are currently touring their 22nd album 'Bad Magic' and are scheduled for concerts across the US for the rest of September before beginning their European dates in November.
Source: www.msn.com
Added automatically
696 views