News
Taylor Swift Is In Hot Water Over 'Wildest Dreams' Video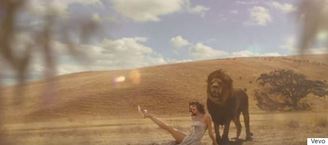 Just days after finally putting her clumsy feud with Nicki Minaj to bed once and for all, Taylor Swift has landed herself in another controversy.
This time, it's over the music video for her latest single, 'Wildest Dreams'.
The new clip sees Taylor portraying a 1950s movie star, on location in the African continent.
However, the video has been met with accusations of racism, with some critics claiming that Taylor is glamorising colonialism by setting the video in that period and landscape, and only using white actors.
HuffPost US writer Lauren Duca said of the video: "Instead of the cultural appropriation that has become almost status quo in today's pop music, Swift has opted for the bolder option of actually just embodying the political exploitation of a region and its people."
Similarly, American radio station NPR have published an essay condemning the clip, writing: "We are shocked to think that in 2015, Taylor Swift, her record label and her video production group would think it was OK to film a video that presents a glamorous version of the white colonial fantasy of Africa."Colonialism was neither romantic nor beautiful. It was exploitative and brutal. The legacy of colonialism still lives quite loudly to this day."
Perhaps anticipating a backlash, a message at the end of the video - which also features shots of African wildlife - reads: "All of Taylor's proceeds from this video will be donated to the wild animal conservation efforts through the African Parks Foundation of America."
While Taylor is yet to publicly acknowledge the backlash, the video's director Joseph Kahn has attempted to justify the video, by revealing that one of its producers was black (and, evidently, "super hot").
Riiight...
'Wildest Dreams' previously attracted attention when her album, '1989', was released last year, with some critics comparing the melody to the Lana Del Rey track, 'Without You'.
Source: www.msn.com
Added automatically
681 views