News
B.B King respected with stone laid in Mississippi museum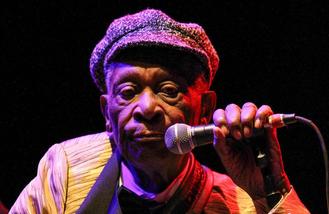 B.B. King's family and friends honoured the late blues legend by laying a stone in Mississippi.
More than 100 fans and family members paid tribute to the bluesman - who passed away in his sleep in May aged 89 - by gathering outside the B.B. King Music and Delta Interpretive Centre on Friday (11.12.15), to remember the extraordinary life and work of one of the guitarist and singer.
Seven of King's 11 living children attended the memorial service, including his daughter Karen King Williams, who said this is how her father would have wanted to be remembered.
Karen said in a speech: "This is such an outpouring of love and seeing how the Delta really loved B.B. King and what a wonderful man he was. This is just how he would want to be remembered."
The 'The Thrill Is Gone' singer was buried on May 30 outside the museum where he used to busk on the streets as a youngster, where is music career started.
The marker is to become a centrepiece of a memorial garden outside the building and is art of a $4.5 million expansion for the centre, which will be a heritage site for the late star.
And the plot will eventually have benches and King's song titles engraved on panels, according to Billboard.
Source: www.msn.com
Added automatically
673 views