News
Fun Lovin' Criminals reflect on five-day recording of debut LP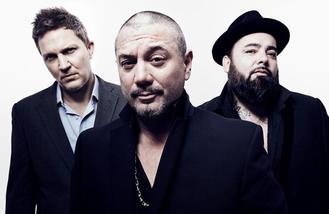 Fun Lovin' Criminals recorded their 1996 debut album 'Come Find Yourself' in less than a week.
The 'Scooby Snacks' hitmakers are set to release a three disk expanded edition and deluxe boxset edition of the classic LP to mark its 20th anniversary and have revealed the tracks came together very quickly.
Bassist Brian Leiser - better known as Fast - revealed: "We did most of the record in five days because we'd been writing it our whole lives."
The most difficult aspect of making the album for the New York trio - which also includes drummer Frank Benbini and frontman Huey Morgan - was getting the samples used in many of the songs cleared, but luckily producer Tim Latham showed them how to re-record the music so they wouldn't have to worry about copyright.
Speaking in a video interview, Brian added: "Obviously the big issue in the recording was re-playing a lot of the samples because we couldn't clear five samples of songs. When we realised what we could and what we couldn't clear in the studio, Tim Latham, who is a master of sound, helped us recreate these sounds and change them so we wouldn't have to clear them. And we ended up clearly most of the record with him."
'Come Find Yourself' will be reissued on February 19.
The band are heading out on a world tour this month kicking off in Leeds on February 4.
Go to www.funlovincriminals.co for more information and tickets.
Source: www.msn.com
Added by AutoAdmin
515 views