News
Zayn Malik: 'New song is not as dirty as it sounds'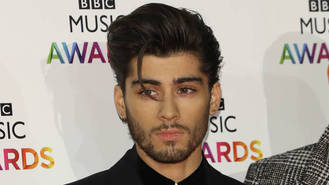 British pop star Zayn Malik is adamant the lyrics of his new single Pillowtalk have been misconstrued because the saucy single is not as sexy as it sounds.
The former One Direction singer launched his solo career late last month (Jan16), unveiling his new song along with artwork showing him in a state of undress and a steamy video in which he is seen cavorting with his model girlfriend Gigi Hadid.
Fans have assumed the raunchy track is about sex, but Zayn has now spoken out to declare the lyrics actually refer to a turbulent relationship.
"It's not the whole intention of the song," he told US radio's the Elvis Duran Morning Show. "The actual intent of the song is even though you have great times in a relationship, you have really bad times as well. But that's what kind of makes it worthwhile, because you learn things and go through experiences that bring you closer together. That's the actual intent of the song. Obviously you have sex, and sometimes you fight during your relationship, so I did mention that in the song. But it's not solely about sex."
Zayn went on to admit he is thrilled with fans' reactions to the song, which is expected to top the UK charts later this week (beg01Feb16).
"I've been working on it for a long time now, so to see the response and everything is really exciting this week," he added.
He also talked about his decision to quit One Direction last year (15) to lead a more "normal" life, declaring he has no regrets about walking away from his bandmates.
"I feel good (about leaving)," he explained. "I feel like that's a key thing in life. You know, regardless of whatever it is that you do, you always got to remain true to yourself and do whatever makes you happy, because at the end of the day, you answer to yourself...
"It's (a) good place to be in. I'm happy about the decision I made."
Zayn previously hit headlines this week (beg01Feb16) after cancelling a number of public appearances, including a planned interview on BBC Radio 1's Greg James Show and a slot on Graham Norton's TV chat series.
Source: www.msn.com
Added automatically
830 views