News
Blake Shelton is Gwen Stefani's second boyfriend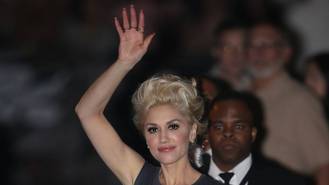 Gwen Stefani has confessed country star Blake Shelton is only the second boyfriend she's ever had.
The Voice co-stars have been romantically linked since late last year (15) and Stefani tells Los Angeles radio station K-Earth 101 her lifetime list of lovers is very short.
When asked if she fancies a certain type when it comes to men, Stefani laughed, "You know, I've only had two boyfriends, right? So I'm not like -when you say that, it just sounds funny. It's just so limited. No, I do not have a type. That's a funny question. I'll just stop right there."
Stefani previously dated her No Doubt bandmate Tony Kanal for seven years until their split in 1994, and although she was married to rocker Gavin Rossdale from 2012 to 2015, Shelton stands as merely the second major relationship the blonde bombshell has been in outside of marriage.
The couple's romance is happening on the heels of breakups, as the Hollaback Girl singer finalised her divorce from Rossdale in October (15), just a few months after Shelton ended his relationship with ex-wife Miranda Lambert in July (15).
Stefani and Shelton seem to be completely enamoured with each other, and she even wrote her new single Make Me Like You about him.
Make Me Like You appears on Stefani's third solo studio effort This Is What the Truth Feels Like, which reaches listeners on 18 March (16).
During a recent appearance on late-night television show Jimmy Kimmel Live!, she spoke about how relationships have influenced the songs on her new LP.
"What's so crazy is that sometimes tragedy, if you really absorb it, you can turn it into something beautiful," Stefani explained. "And this whole album is really about trying to take something awful and healing from it and turn it into something beautiful."
Source: www.msn.com
Added automatically
838 views