News
Lemmy would have been 'proud' of Hollywood Vampires' tribute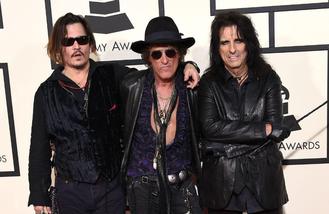 Lemmy's son Paul Inder has praised the Hollywood Vampires' Grammys tribute to the late Motorhead rocker.
The 48-year-old music producer believes his father - who died at the age of 70 in December after a battle with prostate cancer that had spread throughout his body - would have been "proud" to have been remembered at the Grammys.
Of the tribute, he said: "I thought It was great. I thought it was very moving to respect my father in that way and pay homage to him, you know, at the Grammys too. So he would have been proud. So that was very, very touching for me."
Johnny Depp, Alice Cooper and Joe Perry of the Hollywood Vampires performed Motorhead's 'Ace of Spades' at the star-studded ceremony, while the late rock star's face was projected onto a video screen behind them.
Paul has also revealed how courageous Lemmy was in his final weeks of life, even going out to perform a concert despite being on the floor of his dressing room in agony just moments before.
Speaking at a Grammys press conference at the Los Angeles Staples Center, he said: "He had his up and his down days. He would battle to go on stage sometimes, but he would always get it together - even if he was laid out on his back. Like, one show I heard from Steve Luna, his assistant, that he was actually laid out on his back backstage. Then he heard the crowd chanting, 'Lemmy, Lemmy' and he got up and he went out and did it. So he was determined all the way to the end."
Source: www.msn.com
Added by AutoAdmin
524 views