News
Was Rihanna's Grammys cancellation over meltdown -- not medical issues?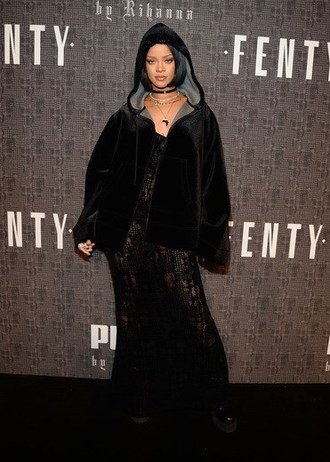 Fans were disappointed when RIhanna bailed on her Grammy performance last minute, but TMZ is reporting that it was for a very different reason than what the singer's team claimed.
After Rihannapulled out of performing at the big award show, a rep for the star put out a statement to Entertainment Weekly sharing she was too sick to perform. The statement explained that after taking antibiotics to help her bronchitis for the three days leading up to the show, that the doctor examined her on Feb. 15 and ordered her to go on vocal rest for 48 hours. Rihanna's team stated that her doctor advised her that singing would risk damaging her vocal cords. "The antibiotics she has been on for three days did not kill the infection adequately, therefore she cannot perform safely," the statement concluded. But on Feb 17, TMZ is reporting a very different story.
Sources told the outlet that it was actually a giant meltdown, and not a medical problem, that led to the "Work" singer running out on a scheduled work appearance. Their insiders claimed that Rihanna actually arrived at the Staples Center in Los Angeles ahead of the big event, but left after a dramatic meltdown occurred. The star was reportedly "screaming and hysterical" after her rehearsals, as she geared up to sing her song "Kiss It Better," and was plenty vocal about her distaste for something about the planned performance.
TMZ continued to raise doubts about the health excuse, citing more evidence from their sources. The outlet noted that insiders shared her voice sounded great that day in rehearsals, and two nights prior when the singer performed at a Lionel Richie charity event.
For her part, Rihanna sent a message to fans during the Grammy telecast on Feb. 15, tweeting "#NAVY so sorry I couldn't be there ..... Thanks Grammys and CBS for your support tonight." The star released her eighth studio album, "Anti" earlier this month, and it's topping the Billboard Top 200 charts. She's scheduled to start her world tour later this month, with her first stop in San Diego, California on Feb. 26.
Source: www.msn.com
Added by AutoAdmin
526 views