News
50 Cent blasts bankruptcy payment 'slave' plan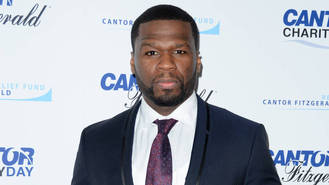 Rapper 50 Cent is blasting creditors involved his bankruptcy case, accusing them of crafting a payment plan that would leave him in an "indefinite period of involuntary indentured servitude."
The In Da Club hitmaker filed for bankruptcy in July (15) and he reportedly owes several creditors a total of $30 million (GBP21 million).
Bosses at Sleek Audio and SunTrust Bank, and Lastonia Leviston, who won a $7 million (GBP4.9 million) award from the rapper after she accused him of leaking a sexually explicit clip she made with an ex online in 2009 as part of a spoof video, have reached a payment plan over the debt.
However, the 40-year-old is refusing to agree to it, claiming it violates the 13th Amendment of the U.S. Constitution, which bans slavery and involuntary servitude, and only benefits the creditors, according to TMZ.com.
"The plan conditions (50's) access to food and shelter on the whims of the trustee, who answers only to the (creditors)," the legal papers read.
Rumours are rife the musician's bankruptcy bid was prompted by the settlement awarded to Leviston last year, in which she received $2.5 million for violation of civil rights and using her image without permission, $2.5 million for intentional infliction of emotional distress and $2 million in punitive damages, making 50 Cent's total debt to her $7 million.
However, his money troubles don't seem to be stopping 50 Cent from pursuing new opportunities in show business. Deadline previously reported he is developing a new TV comedy with producer Will Packer entitled My Friend 50 for America's Fox network, a show loosely based on what life is like as a member of his entourage.
Source: www.msn.com
Added by AutoAdmin
534 views