News
Louis Tomlinson 'wants girlfriend to meet son'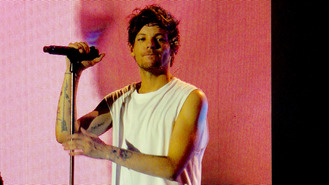 Louis Tomlinson is reportedly keen for his new girlfriend to meet his son, but the baby's mother isn't so keen.
The One Direction star became a father in January (16) when his close friend Briana Jungwirth gave birth to their little boy Freddie. Although the pair have never been in a relationship, Louis is keen to be a hands-on dad and was spotted helping carry things when his newborn left hospital.
Throughout this life changing event, Louis has been linked to actress Danielle Campbell and he's apparently keen for his new flame to get to know Freddie.
"Louis really wants Danielle to meet Freddie soon - but Briana is uncomfortable about the whole thing and has said she isn't ready for Danielle to play a role in his son's life yet," an insider told Britain's Closer magazine. "Danielle is feeling frozen out by the situation and Louis is trying to keep the peace with everyone. Things are quite intense."
It's also been reported recently that Briana's family aren't happy with the amount of child support the pop star is paying, despite Louis reportedly giving around £10,000 ($14,000) a month. This is said to add to the strain of the situation, but Louis apparently won't back down in trying to get Danielle and Freddie together.
The handsome 24-year-old has set up home in Los Angeles for the time being so he can be close to his tot, and an insider explains he hopes to be based in the US for at least six months of the year.
The arrival of Freddie comes at the right time, as One Direction are currently on hiatus following the release of their latest album Made in the A.M. - the first since Zayn Malik left in March 2015. Louis gave fans a glimpse of the baby when he posted a photo on Twitter, showing his offspring resting against his chest.
Source: www.msn.com
Added by AutoAdmin
539 views