News
Kanye West: 'God is doing 98 per cent of the work on my new album'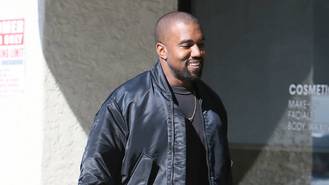 Kanye West has described his new album as two per cent his work and 98 per cent of God's.
The 38-year-old rapper has made some huge claims about his upcoming record, believed to be called Waves. He initially told fans that the release is the "best of all time", before clarifying that it is "one of" the best of all time.
Now Kanye claims the finished product has had divine intervention, adding that it's a "dream that can't happen without God".
"I'm only doing two per cent of the work," Kanye told Big Boy on his Real 92.3 radio show on Thursday (04Feb16). "God is doing the rest of the work."
Kanye also believes the spirits of his late mother Donda and father-in-law Robert Kardashian have aided him as he works on the album. Kim Kardashian's late father Robert defended O.J. Simpson when he was accused of murdering his ex-wife Nicole Brown Simpson.
"He's still doing deals for controversial black people from up in heaven," Kanye added.
Kanye has been going back and forth about the title for the new record, originally opting for So Help Me God before changing it to Swish and then settling on Waves. Kanye believes it is incredibly important for him that his fans are approving of the album name.
"Yeah, I wanted to get people's opinions on how they felt," he said. "What I've really come to realise about being a celebrity is... everybody is our family. It's family. If something bad happens, you're gonna hear about it.
"Obviously I have made a connection with people – a family-level connection that they played my music in their houses for so many years with their mothers, their friends, their kids. We love any opportunity we have to involve all of our family in the creative process."
Kanye is also hoping listening to his new record will be a blissful process for his fans, and he wants them to experience "ultra light beams" the first time they sit down to hear his new material.
"This is a gospel album with a whole lot of cursing on it, but it's still a gospel album," he laughed. "It's the gospel, according to 'Ye (Kanye). It's not exactly what happened in the Bible, but it's a story of this idea of Mary Magdalene becoming Mary."
Source: www.msn.com
Added by AutoAdmin
540 views