News
Joe Jonas plots world domination with band DNCE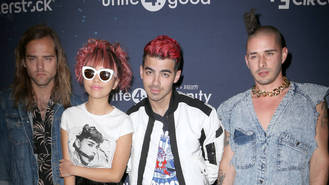 Joe Jonas' new group DNCE are aiming to be "the biggest band in the universe".
The 26-year-old singer has already found fame as one third of sibling group The Jonas Brothers. He is now hoping for similar success with his new musical venture, which sees him team up with guitarist JinJoo, bassist/keyboardist Cole Whittle, and drummer Jack Lawless.
And with One Direction currently on hiatus there is an opening for a new world-famous band with DNCE (pronounced dance) confident they can fill the position.
Bandmember Cole, explained their unusual moniker emerged during a songwriting session. "The name came in the creative process writing a song about being too tipsy or drunk to spell the word dance, and that's blossomed into four letters, four different unique superheroes. Each letter can mean whatever someone wants to so it's a very universal, big, open wide concept," he revealed.
The group are about to release their debut single Cake By The Ocean but admit it wasn't actually them who came up with the quirky title for the track.
"We wrote the song with some producers from Sweden, they kept confusing the drink Sex On The Beach with Cake By The Ocean and we ran with it," Joe told MTV News.
He previously revealed that despite his fame, he is not expecting DNCE to become successful straight off the starting line. Instead, he is prepared to join his bandmates in working hard to build up a fanbase.
"It would be easy to come into this from something like the Jonas Brothers with an ego, but I've got my head on straight," he told Billboard magazine. "I'm ready to get out there and build a fan base."
But bandmate Cole stated their ambitions in more confident fashion: "The short term and long term plan for the band is to be the biggest band in the universe."
Source: www.msn.com
Added automatically
829 views