News
Selena Gomez reveals Kendall Jenner is in love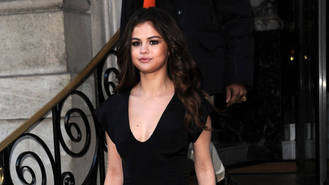 Singer Selena Gomez has accidentally revealed Kendall Jenner is no longer single.
The Come & Get It singer, who is a member of fellow pop star Taylor Swift's female 'squad' along with the 20-year-old model, was chatting with British DJ Roman Kemp from Capital FM on Monday (14Mar16) when she was asked if he could join their gang.
Selena gave a surprising answer, stating, "Maybe not for the squad necessarily but boyfriend material is always good… none of them are single, just so you know."
"Taylor is not single, Gigi (Hadid) is not single, neither is Kendall. I am the only single one!" she added.
Selena didn't name names, however, leading to immediate speculation over who Kendall's new beau could be.
The beauty took a well earned break with former flame and One Direction singer Harry Styles, 22, in the Caribbean between Christmas and New Year (15), after the couple previously dated in 2013.
The pair has not been photographed together lately though, while rumours persist that Kendall has enjoyed dates with singer Chris Brown, 26.
While neither claim was substantiated by Selena, 23, she has spoken in recent months about her own love life, admitting to InStyle magazine she would like to date more mature men.
"I feel like I look 16 sometimes, which is a bummer because I would love to date older guys," she said.
Earlier last year (15) Selena was linked to music producer Zedd, but the lovely Latina played the romance down, revealing she was back on the dating scene - but wasn't particularly enjoying it.
"I hate it," she confessed. "It's hard and I'm weirded out by the idea that a guy has Googled me before we meet - and that has happened."
Selena previously enjoyed an on-off relationship with Canadian singer Justin Bieber and most recently was spotted enjoying his company in November (15), but neither star confirmed talk of a romance.
Source: www.msn.com
Added automatically
793 views