News
Steven Tyler: I owe my career to Joe Perry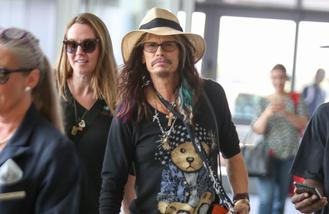 Steven Tyler owes his career to his Aerosmith bandmate Joe Perry.
The 67-year-old singer is currently working on his debut country LP, a musical project which led to Perry, 65, suggest it was the end of his friend's association with the 'Walk This Way' rock band.
In the wake of Perry's assessment, Tyler publicly stated his commitment to Aerosmith and he has now reiterated his loyalty to the group - also comprised of Brad Whitford, Tom Hamilton and Joey Kramer - and thanked Perry for making him a star.
He said: "One of the biggest things we've all learned is, 'I can't do this alone.' I could never be the guy I am without the five of us sitting in the kitchen in a barn up in Lake Sunapee, the summer of '71, deciding to move to Boston.
"No matter what he has said recently about jealousy, I couldn't be making this (country album) if it wasn't for Joe Perry. It's a catch 22, but if you slow down enough, you get to see it."
Tyler - who recently dropped his country single 'Red White, & You' - also said that being in Aerosmith for the last four decades has been "one of the biggest joys of all", although they've been through their ups and downs.
Asked what fronting the band has taught him over the years, he told Rolling Stone magazine: "Unless you're a general in an army full of foot soldiers, you can only guide by example.
"In the beginning Aerosmith was just about smoking a lot of weed and trying to wake someone up with our music, and a lot fighting amongst the boys' club. But they've taught me a lot. And staying together for 40 years has been one of the biggest joys of all. Because how many bands have fallen wayside?"
Just as Tyler is working on music away from Aerosmith, Perry has been performing with his side-project The Hollywood Vampires - also comprised of actor Johnny Depp, Alice Cooper and Guns N' Roses' Duff McKagan.
Source: www.msn.com
Added automatically
1154 views