News
Rihanna: 'Whatever Drake writes is totally honest'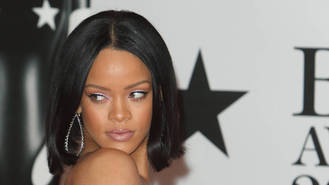 Rihanna knows that when she collaborates with Drake the result will always be "amazing".
The pair worked together on Rihanna's latest single Work - making it the third time the pair have joined forces after 2010's What's My Name? and 2011's Take Care.
They have also reportedly been involved in a romantic relationship on occasion, but it's the trust that Rihanna has for the rapper that makes him the perfect person for her to work with.
"I mean, Drake has a lot to offer," Rihanna told Vogue magazine in a newly-released excerpt from her latest interview. "He's very intelligent, and so I trust him a lot with his direction. Doing a collaboration with him, you know it's going to be great. Everything he does is so amazing.
"He's so talented that you kind of just trust that it'll be right. And plus, we know each other, so I know that whatever he writes is going to be honest, and it's going to make sense to where I'm at in my life. That's the difference. We know each other."
Fans were given an early listen of Anti when it was leaked on the Internet. The reactions to the album have so far been mixed, but the 28-year-old insists she is proud of the finished result because it is true to her.
"I always believed that when you follow your heart or your gut, when you really follow the things that feel great to you, you can never lose, because settling is the worst feeling in the world," she added.
"Settling makes you feel like a sellout. It makes you feel like a liar. It doesn't make you feel like you believe anything you're saying or singing or performing. If you're performing music that is not who you are or where you're at, it is painful. It's painful for the performer and for the audience. And I didn't want to be caught doing what I felt like would sell or do what I've done before. I needed to do what I believed in."
Source: www.msn.com
Added automatically
687 views