News
Axl Rose to step in for AC/DC's Brian Johnson?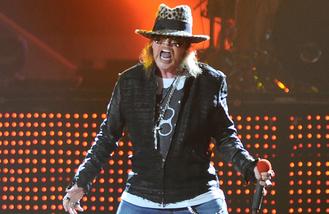 Axl Rose is reportedly set to replace Brian Johnson on the remaining dates of the AC/DC tour.
The Guns N' Roses frontman is believed to have met up with the 'Highway to Hell' hitmakers to discuss the possibility of him stepping in for the vocalist after they cancelled 10 shows in the US earlier this month when Brian, 68, was told by doctors to "stop touring immediately or risk total hearing loss".
Axl - who is gearing up for his own band's live comeback at Coachella Valley Music and Arts Festival next month - happened to be in the same place where the band were holding auditions for the replacement and came along to discuss the possibility.
A source told Atlanta Radio 100.5 DJ Jason Bailey: "This is what I'm being told, Axl was meeting with the AC/DC group, because it's all but a done deal that Axl will front AC/DC for the 10 remaining shows.
"All 10, including Atlanta. They're in town, they were auditioning people for the job, and then they flew Axl in, again, this is from my source."
Meanwhile, Jason was also told that lead guitarist Angus Young is believed to still want the veteran rock group to continue performing live as "the show must go on" despite Brian's ill heath.
He added: "From what I was told, this was all kind of new inside information to me, Angus is a very black and white guy.
"He's like, Brian, for health reasons, can't continue fronting the band. He was supposed to retire after the last tour, so they wanted to continue going out on the road and continue making music, so if you can't do it, we appreciate your services, but the show must go on."
Source: www.msn.com
Added automatically
658 views