News
Iggy Azalea: 'Britney's security scoped my house pre lunch!'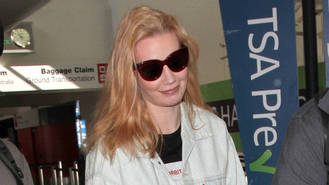 Britney Spears' security team did a sweep of Iggy Azalea's house before the singer visited for lunch.
Iggy and Britney collaborated on 2014 track Pretty Girls. While working together on the song, Iggy invited Britney over for a bite to eat, but admits she was slightly surprised by the preparations that took part ahead of their meal together.
"They came and checked my place to make sure I wasn't trying to stash anything weird and, like, give it to her, or something," Iggy laughed during an appearance on Watch What Happens Live on Wednesday night (23Mar16).
Host Andy Cohen was stunned by her revelation Britney's team had "scoped out the place", and questioned Iggy further on the situation.
The 25-year-old singer said Britney's security people were "very nice" but just wanted to make sure she "wasn't a bad influence" on the mother-of-two.
"And I'm not. I passed the test!" Iggy added. "I was like, 'I promise, I'm not gonna do anything bad. I just want to have lunch'. I mean, I don't do anything weird. I don't have, like, a crack den."
Iggy was also asked about her upcoming wedding to sportsman Nick Young. She had recently revealed she postponed her nuptials because of her tour, but is still making plans for the big day.
One thing she and Nick are butting heads over is their first dance.
"Nick wants to do something stupid," Iggy said. "He wants to, like, breakdance, and I don't want to do that. I want a serious dance. I already have to live with him, every day, being silly. I'm like, 'Can we have one serious moment?' "
She added the wedding will be happening "early next year", but refused to reveal any more details of the date.
As the interview continued, Iggy was asked a series of hilarious questions, as is usually the way on Cohen's show.
One query was the craziest rumour she has ever heard about herself, to which Iggy replied: "The craziest rumour that I've ever heard, that really went around, was that I had a sex change when I turned 18 and that I was born with a penis and my name was Corey. Why would my name be Corey? It would be Liam, that's my boy name… My mom always said if I was a boy I'd be named Liam!"
Source: www.msn.com
Added automatically
630 views