News
Iggy Azalea to lead Miami Beach Gay Pride Parade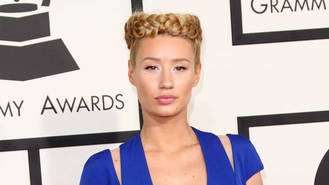 Iggy Azalea will lead the 2016 Miami Beach Gay Pride Parade almost a year after she dropped out of a gay pride event over backlash.
The Fancy rapper has been named as radio host Elvis Duran's guest of honour and will join him on his float as they lead the parade, which celebrates the lesbian, gay, bisexual and transgender community (LGBT) in Florida on 10 April (16).
"I'm honoured to join my friend Elvis Duran this year at Miami Beach Gay Pride on April 10!" Iggy said in a statement to People.com. "It's such an important day to celebrate with my LGBTQ fans, and I can't wait to see my Azaleans there!"
Iggy will reportedly stay in Miami Beach for three days for Pride celebrations and throw her own fundraiser for the LGBT community.
In 2015, LGBT campaign groups threatened to pull out of the Pittsburgh Pride in Pennsylvania when it was announcing she would perform at a concert as the rapper had been previously accused of making homophobic and racist comments on social media before she was famous.
At the time, she apologised for writing those earlier messages and dropped out of the gig as she felt she was distracting from the "true purpose of the event".
"I am a firm believer in equality," she wrote in the statement. "Unfortunately in the past as a young person, I used words I should not have. The last thing I want is for something so carelessly said to be interpreted as reflective of my character. I meant no harm and deeply regret ever uttering those words.
"As an adult I would never use them because I understand they play a detrimental role in the fight for issues that I do truly believe in. I am sorry to anyone I have offended or disappointed (and) I wish all my fans and friends participating in Pride the best of luck."
Iggy, 25, will also join Elvis Duran in his radio studio to discuss her upcoming album Digital Distortion while she is in Miami.
Source: www.msn.com
Added automatically
792 views